Website Design
Captivating, Stunning and Functional Designs.
Web Development
It is quite easy to get confused with the acronyms and jargon that are regularly used with web development. At WJStudio we keep things simple and easy to understand and nobody is left in the dark.

With new websites created every day we pride ourselves in creating market leading, efficient and user friendly designs. We understand the importance of first impressions and know it only takes 3 seconds for a user to make a judgement. We pride ourselves in making high quality websites that communicate your message clearly.

We believe website development should be done quickly and efficiently without sacrificing accuracy and quality. Developing websites to your specification without compromise.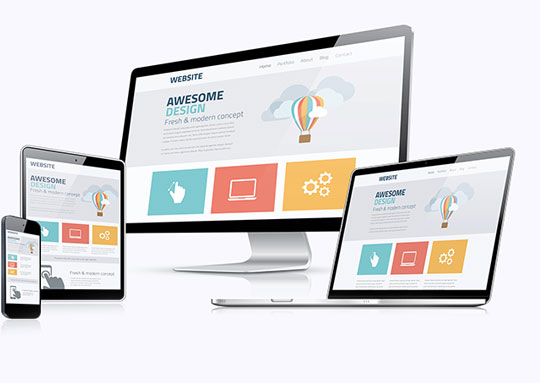 Mobile and Reactive Design
Over the last few years' end-user's habits and technology has changes a great deal. With the slowdown of desktop computer purchases and strong uptake of mobile devices such as touch screen tablets and mobile phones. Each device has a different user interface, for example a desktop computer has a large screen with an accurate pointer allowing a lot of information to be present on screen at any point. With mobile phones, they have a much smaller screen and require much larger buttons for finger input. All our website designs are designed and built with this in mind ensuring your website is accessible by all modern devices.

A bonus to mobile and reactive websites is Google favours this style over previously developed non-responsive website design giving an immediate advantage when being listed within search results.
Content Management System
At WJStudio we specialise in creating bespoke Content Management Systems that are easy to use. Our CMS system is intuitive, functional and allows non-technical users to easily edit their website. Adding or removing images, video, blog posts and news stories need not be a complicated and lengthy task.

At WJStudio we understand editing and maintaining a website can be time consuming and in turn costly. We research our clients' needs to ensure their processes and requirements are met making editing, updating and changing the website is easily achieved. CMS Features include;

1. Add New Content Pages
2. Edit key sections of your website including keywords, descriptions, page names etc.
3. Adding and Removing Website Graphics
4. Upload or Embed Videos
5. Manage page content including News Sections & Blog Posts
Getting Started
Looking for a responsive website that will work as hard as you do?
Contact Us Today!